Regular price
₹ 21,000 INR
Regular price
Sale price
₹ 21,000 INR
Unit price
per
Sale
Sold out
(Free Shipping In India)
This Is A Beautifully Handmade Crafted Sandalwood Art Piece Which Compliments Your Home Decor. Intricately Hand carved, Solid Quality Sandal Wood statue- Intricate detailing on all sides.

This beautiful hand carved figurine is carved from one piece of Sandalwood and depicts story of Goddess Radha and God Krishna in Hinduism . Wooden Radha Krishna Love Story statue is an exclusive item for gift as well as home decor and being made by the hands of expert artisians A Beautiful Love Couple statue of Indian Hindu God Goddess Radha Krishna, Supreme Hindu God and Goddess. Radha listens, entranced, as Krishna plays his flute. Radha was the most beloved of Krishna's consorts and his constant companion. Her love for Krishna represents a celestial, spiritual love.

Radha Krishna are collectively known within Hinduism as the combined forms of feminine as well as the masculine realities of God. Radha and Krishna are the primeval forms of God and His pleasure potency respectively in the Gaudiya Vaishnava school of thought. In some schools of Vaishnavism, Krishna is referred to as Svayam Bhagavan, and Radha is illustrated as the primeval potency of the three main potencies of God, Hladini (immense spiritual bliss), Sandhini (eternality) and Samvit (existential consciousness) of which Radha is an embodiment of the feeling of love towards the almighty Lord, Krishna (Hladini). With Krishna, Radha is acknowledged as the Supreme Goddess, for it is said that Krishna or God is only satiated by devotional service in loving servitude and Radha is the personification of devotional service to the supreme. She is also considered in Vaishnavism as the total feminine energy and also as the Supreme Lakshmi (Adi-Lakshmi). Various devotees worship her with the understanding of her merciful nature as the only way to attain Krishna. Radha is also depicted to be Krishna himself, split into two, for the purpose of His enjoyment.

Krishna, one of the most widely revered and popular of all Indian Gods, is considered as the eighth incarnation (avatar) of the Hindu god Vishnu and also as a supreme god in his own right. He is considered to be the most charming and enigmatic of all Hindu Gods. His words of wisdom to his staunch devotee Arjuna, during the war of Mahabharata, is the very edifice of the Hindu religion in the form of the timeless Bhagavad Gita. It is believed that Krishna enchants the world, but Radha enchants even Him. Therefore She is the supreme goddess of all. It is also believed that Radha is not just one cowherd maiden, but is the origin of all the 'gopis' or divine personalities that participate in the rasa dance. This beautifully designed statue is hand carved in wood and can be used in home prayer rooms, ideal as home decor or for gifting to your near and dear ones.

Items Highlights

•  Original work with a certificate

•  Professional worldwide delivery

•  Handmade With Love

•  24x7 Customer Service

• Dispatches from Jaipur 

• WhatsApp Support : +91 8290383535
Shipping & Returns

1–2 business days

Accepted (Exceptions may apply)

 
Care Instructions
Request Customization
View full details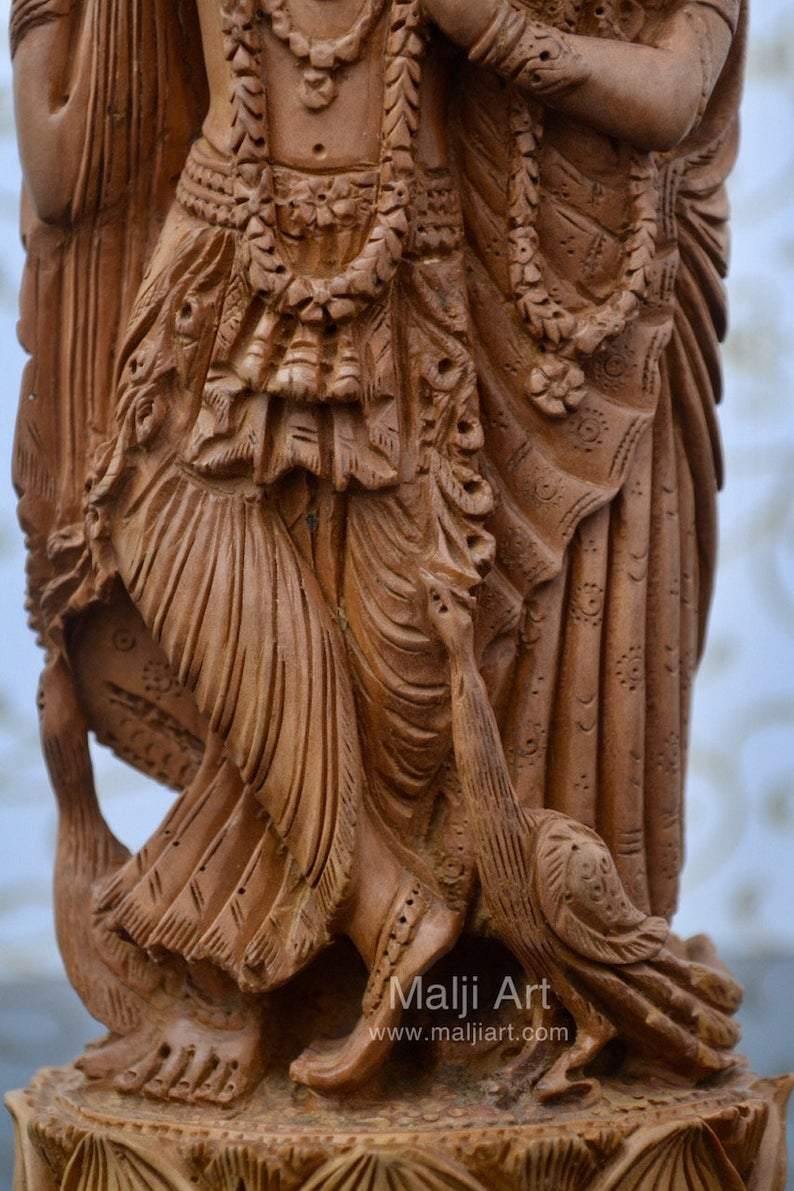 Product Care
Clean with soft dry cloth on a regular basis. In case of dust accumulation gently dust of the surface with a fine brush.
Contact For Customization
We specialise in custom sculpture using various Wooden materials, and you can also send customisation request for our art collections, if you want to buy something from our Online Store and wants to add something or change, it is also possible.
Phone:  +91 8290383535
WhatsApp:   +91 8290383535
E-mail:   team.malji@gmail.com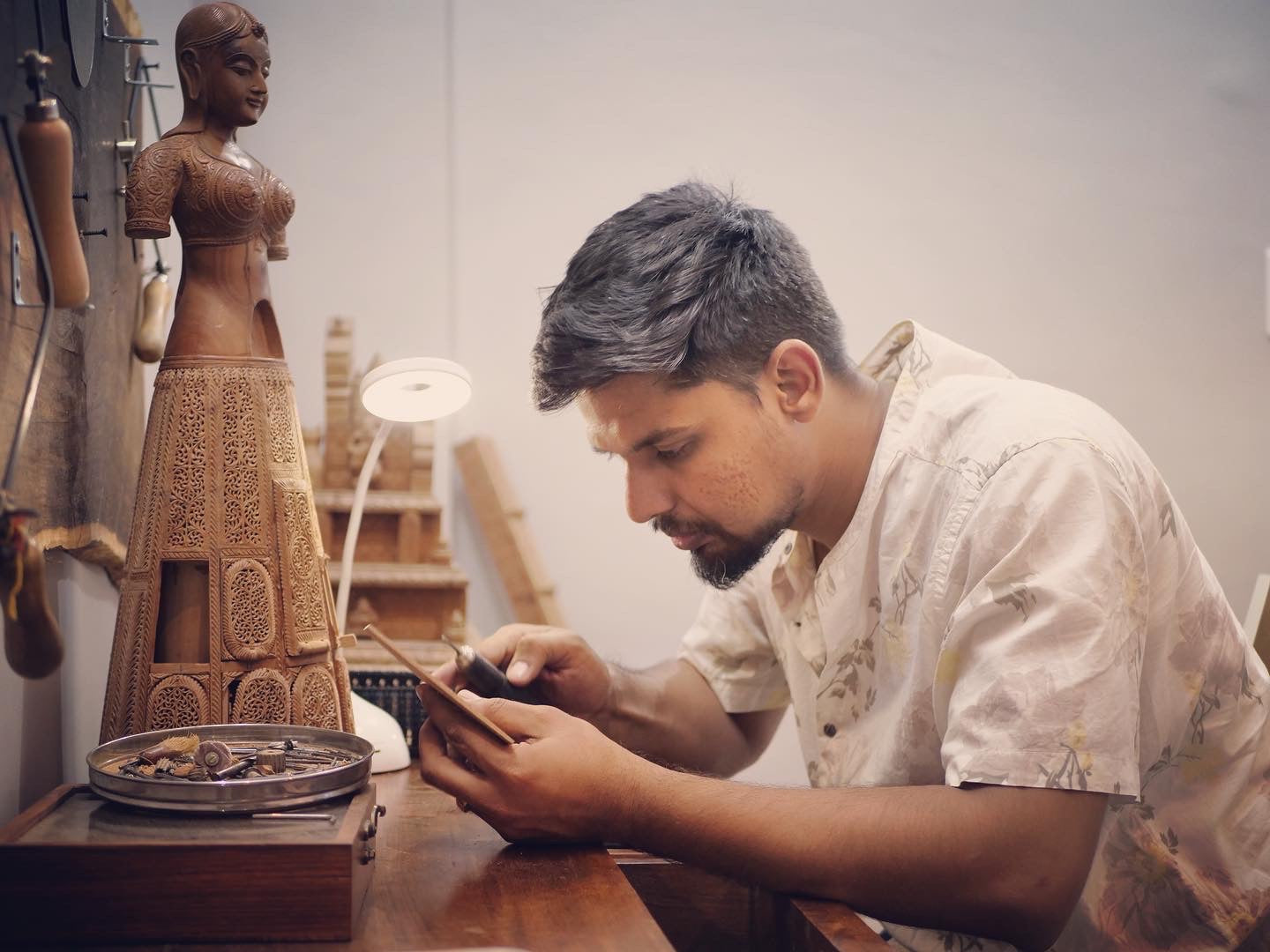 Expertly curated, affordably priced
"I hand-pick each statue directly from the artist who makes the sculpture in our workshop.."
Safe & Free shipping in India by professionals.

Original work delivered with a certificate of authenticity

Malji Arts guarantees reliability and traceability.

With Malji Arts, you can pay safely by credit card or bank transfer.
Customization
A very small collection of statues are presently on display. If you are
looking for a specific size or design for your idols please feel free to contact us with
your specifications. Also, if we don't have a stock of any idols, we may be able to
custom make one for you. we insist that the extremely detailed
statues are handmade by skilled craftsmen.